Governors 
Aims for the Governing body
There are three core functions of a school's governing body.
Setting vision, ethos and strategic direction, engaging stakeholders, and ensuring statutory duties are met;
Holding Headteachers to account for teaching, achievement, behaviour and safety; challenging and strengthening leadership; contributing to school self-evaluation
Ensuring financial solvency and probity with effective management of financial resources, including the Pupil Premium, to raise standards.
They are also responsible for specific actions such as ensuring that there is a procedure in place for handling complaints; approving the school budget; and appointing the Headteacher.
At Leighton Primary School, our Governing body is made up of the following roles:
The Headteacher
Staff Governor (elected)
Local Authority Governor
Parent Governors
Co-opted Governors
Leighton's Governing Body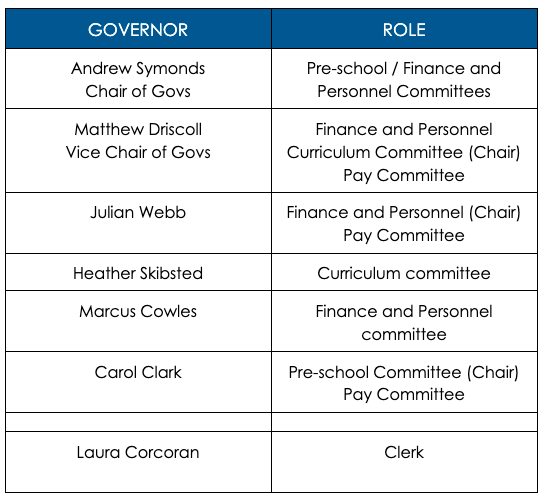 You can compare Leighton Primary School's income and expenditure with similar establishments in England by clicking on the link below.
https://schools-financial-benchmarking.service.gov.uk/school/detail?urn=110743&openOnly=true