Fine Motor Activities
The fine motor activities on this page will help to develop your child's hand and eye co-ordination skills and strengthen the smaller muscles of the hands and wrists to develop control when manipulating small objects. Activities such as using playdough, cutting, drawing and threading will all help to develop these muscles.
Threading activities
Cut up some plastic or paper straws then thread them onto a length of wool or string. You could also try threading cheerios too. Count each straw or cheerio as you thread it.
Using straws cut into 2 different lengths, thread some onto string/wool to make 2D shapes; square, rectangles, triangles, pentagons.
Cut out some shapes from coloured card, cereal packets or paper, e.g. 2D shapes like an oval, rectangle, square, triangle or letter shapes from their name. Hole punch around the edge then sew around the shape by threading wool or string up and down through the holes.
Make some bunting. Cut some large triangles from paper and put 2 or 3 holes along one edge. Thread them onto string, ribbon or wool. Decorate the bunting with letters to spell a word or message.
Using a cooling tray (used for baking) or a grill tray, provide lots of long things for your child to thread in and out of the gaps e.g. lengths of wool, ribbon, thin strips of paper, old shoelaces.
Bubble Wrap
If you have any bubble wrap from packaging, your child could pop the bubbles with their thumbs and fingers to build up their strength. How many popping sounds can you make in a minute?
Newspaper
Can you tear the paper into long strips, now try tearing it the other way?
Can you tear it into small fingernail sized pieces and then use your two 'pinchy fingers' (forefinger and thumb) or tweezers to pick them up and collect them in a pot?
Can you scrunch it into a ball with one hand, squeeze it tightly?
Playdough
If you have playdough at home or are able to make some (see recipe below) try manipulating it in different ways to support hand strength and develop hand muscles. Try the following: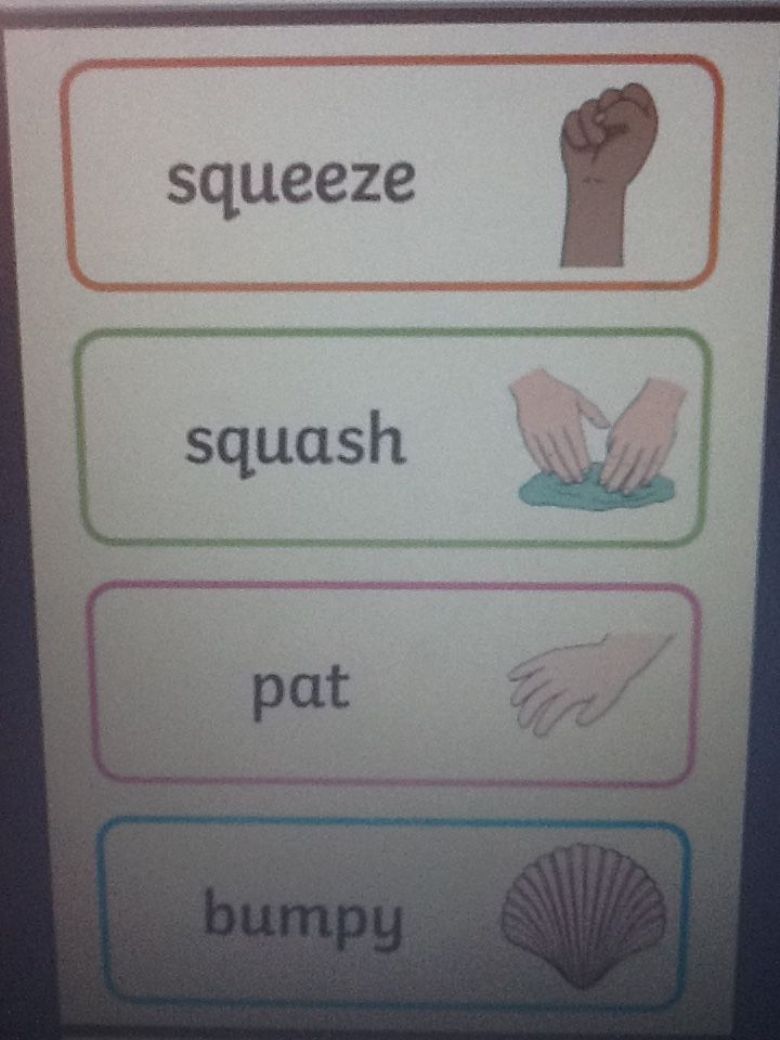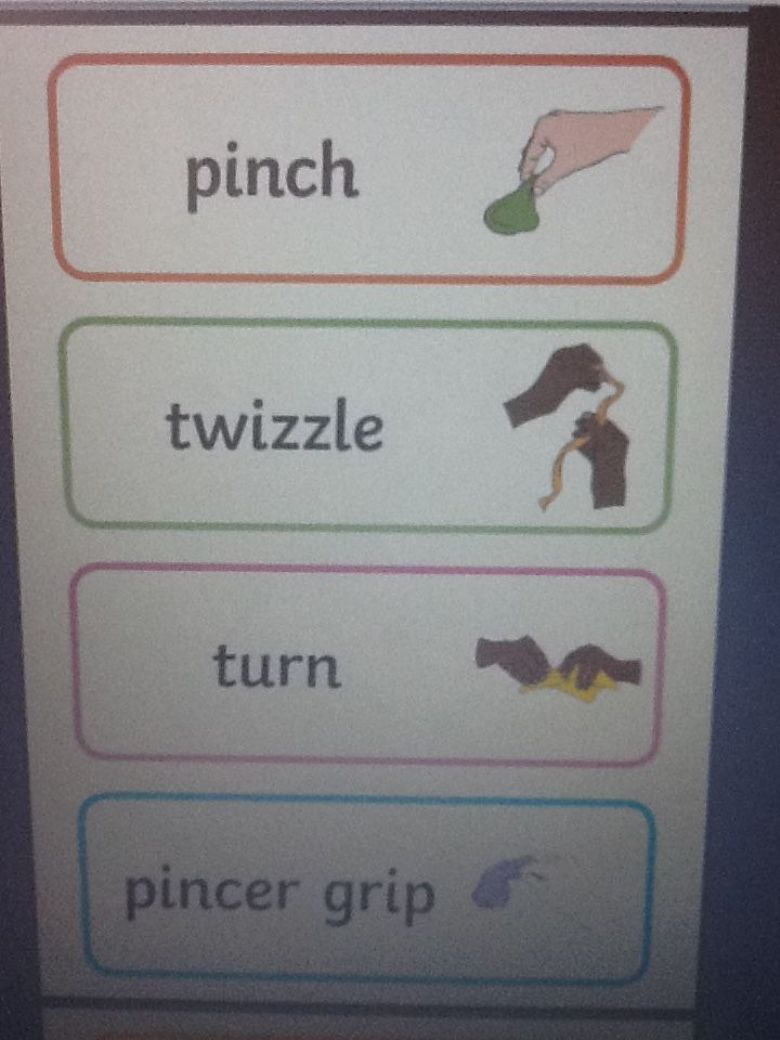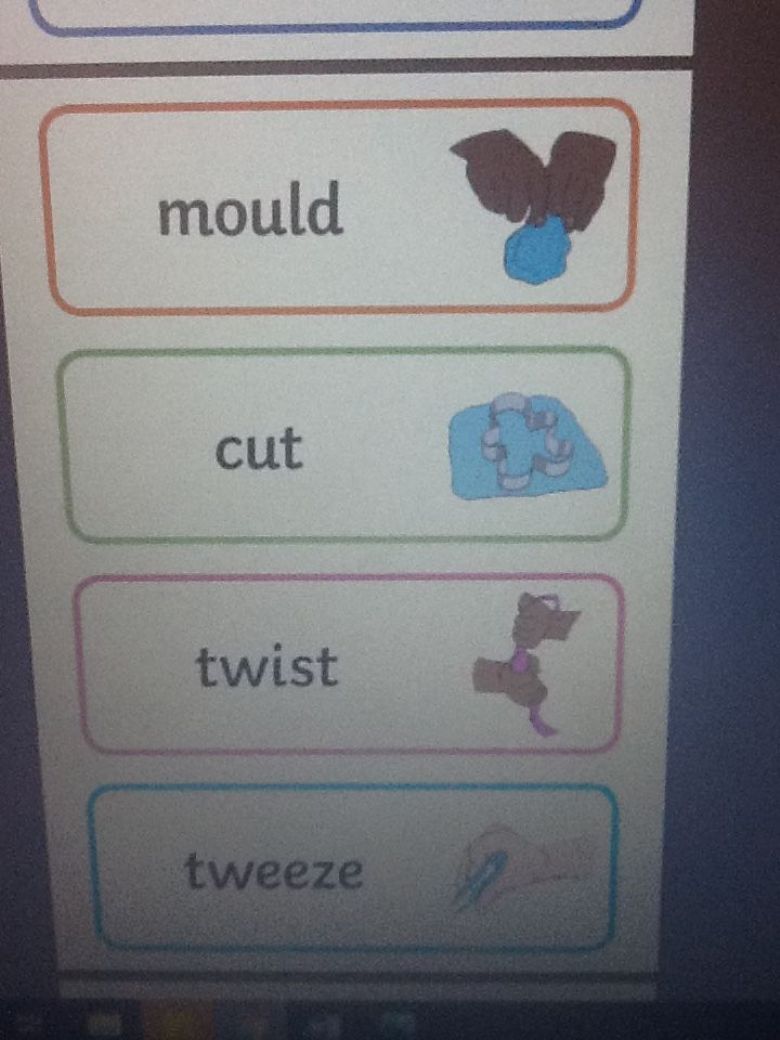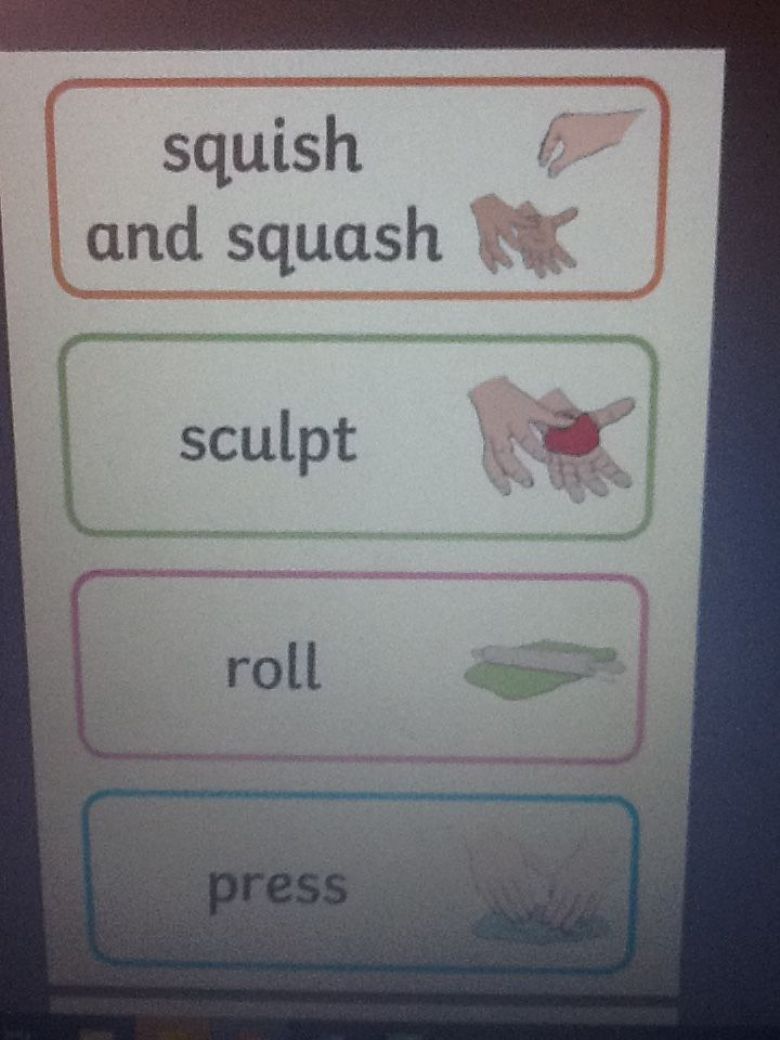 You may also like to try the Dough Disco hand and muscle strength exercises on Youtube, here is one about the days of the week: https://www.youtube.com/watch?v=ovgPLvue164
Scissor Skills
Learning to use scissors can be a really tricky thing for some children. There are a lot of prerequisite skills that a child needs before they can be successful with scissors – hand strength, eye hand co-ordination, visual tracking skills and it takes time to develop these skills.
But more than anything it takes practice and patience. With your child start by:
Cutting playdough, paper or plastic straws or foods like crackers or wafers as these give quick results.
Cut along straight lines, possibly hand over hand (with your hands guiding your child and adding the appropriate pressure). Model to your child how to hold and steady the paper you are cutting.
Cutting pictures out of catalogues or magazines is a good purpose for cutting straight lines.
Try cutting strips of paper to make simple collage or shape pictures or make paper chains.
Try cutting hairstyles onto paper plate people or toilet/kitchen roll tube people/monsters.
Elastic bands
Elastic gymnastics! – Start by putting 2 elastic bands (the same size) around the
thumb, first and middle fingers, ask the child to open and close the fingers. Then add another 2 elastic bands and so on. The more you have on, the harder it is to move your fingers. These exercises help to develop the muscles which are used when writing.
Hama Beads
Hama beads are good for pincer grip and hand/eye coordination. The children have patterned sheets to copy and peg boards to put them on.