Language Ambassadors
Language Ambassadors
Cześć, ciao, bonjour, sveiki, hello!
We are the Leighton Language Ambassadors. Our families come from many different countries and cultures. We can speak lots of different languages and use our skills across the school to help children who speak English as a second language. We are buddies for children who are new to our school, we translate for teachers and we help to promote learning about language and different cultures across the school.
Young Interpreters Training
We use the Young Interpreters training programme in order to learn how to be effective language buddies. We will know how to help children who are new to our school and speak languages other than English. We will have lots of skills which we can bring to this role such as speaking different languages, good listening skills and being a friendly face at school. When we can, we will be helping to give tours when new children start at Leighton and checking they are settling in well.
Reading Buddies
When able to, we will be bilingual reading buddies for the Foundation Stage and KS1 children. We are matched up with a buddy or buddies who speak the same home language as us. We read stories in English and our home languages, talk about books and help develop a love of reading with the youngest children at our school.
We also have some bilingual adults who come into school to read with us and talk about what we have read in our home languages. We really enjoy being able to speak about books in our home language and learn about the meaning of new words.
'House of Feasts' Restaurant Visit
We visited the restaurant 'House of Feasts' in Eye, Peterborough which is run by head chef Damian Wawrzyniak. Damian was voted in the UK Top 10 Food Pioneers by BBC Good Food, selected as the first Polish chef to cook on the BBC with Mary Berry, served a traditional Polish feast to Prince William and Kate Middleton and was awarded a Knights Cross Award by the President of Poland for promoting Polish cuisine worldwide. We had such a great time - see our photos in the gallery!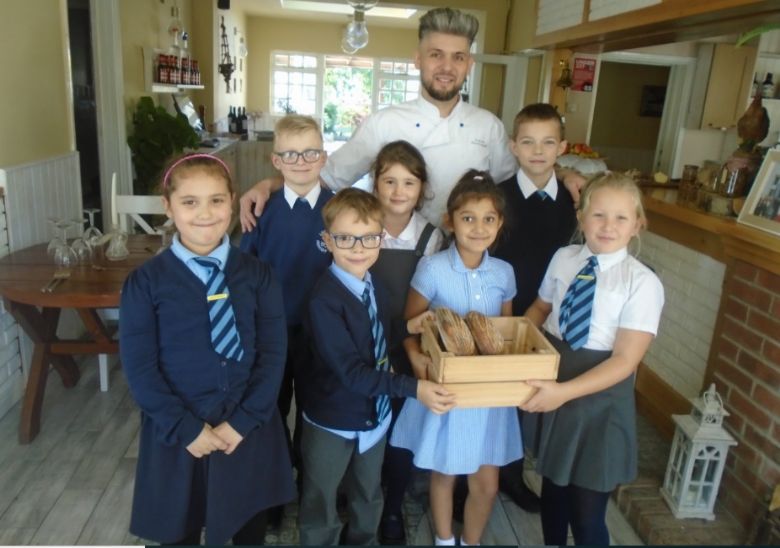 Tuesday 20th November - National Independence Day (Poland)
Poland is celebrating 100 years of independence and to mark this special occasion, the language ambassadors learnt about the history of Poland. We explored Polish culture, education and traditional dishes. We also learnt about the importance of conflict in Polish history.
Did you know ...
Poland was once divided up between Russia, Germany and Austria. This meant that for 123 years, Poland did not exist as a country.
In 1918, after WW1, Poland became a country again and to celebrate this there is a public holiday every year on November 11th - the National Independence Day.
Poland's national symbol is the White Eagle.
To celebrate Poland's National Day of Independence, we decorated our very own Polish Flag biscuits. On the modern flag, white is said to represent the hope for peace by all of Poland's people, while red still recalls the symbolic reference to socialism from days gone by. See more photographs in our gallery.
In The News!
We have been in the local Newspaper for our Gold Quality Mark achievement award. See the full story here: https://www.peterboroughtoday.co.uk/our-region/cambridgeshire/gold-seal-on-peterborough-primary-school-achievements-1-8716113
A film crew and journalist from BBC Look East came to Leighton to interview the Language Ambassadors about their fantastic work that they do across the school!