Phonics ear and air
Hello and welcome to phonics for the week beginning 29th June!
So far your child has learnt all the Phase 2 sounds and j v w x y z zz qu ch sh th ng ai ee oo (long and short) ar or ur and ow oi ear in Phase 3.
Please keep showing your child the sounds everyday so they can practise saying the sounds to match the letters.
This week we are going to review the trigraph ear in beard and learn the trigraph air in chair.
*Practice reading and writing all of the Phase 3 sounds using https://www.phonicsplay.co.uk/member-only/Flashcards.html
*Listen to the Jolly Phonics songs for phase three, The j sound is the beginning of Phase 3 and starts at 5 min 27 seconds, so you could start from here. https://www.dailymotion.com/video/x2wpdvv
Lesson 1 – Review ear
*Say the following words for your child to tell you what sounds there are in each of them:- dear shear tear hair pair fair
*Now ask your child to write each of the words. Encourage them to use their sound mat if they are unsure of some of the sounds.
*Ask your child to write the sentence:- I shed a tear.
*Talk about why you might have cried. Plan and write a sentence to follow on from the previous sentence.
Lesson 2 - air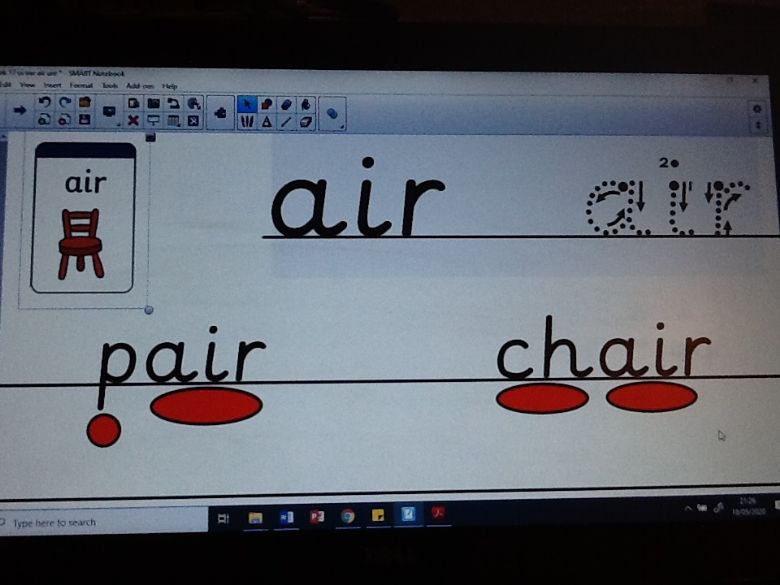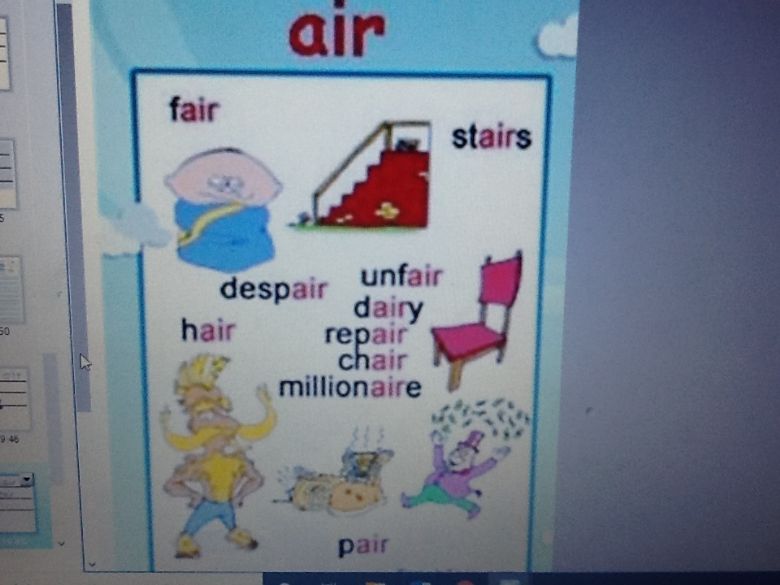 Today's focus is the tri-graph air in chair. Practice writing this in the air/on your hand/in shaving foam or a thin layer of sugar, sand or flour in a tray, on a whiteboard or paper. I have included a photo of a slide so your child can see how it sits on the line. Say the formation rhymes as you write them in lowercase:
a – all around the apple, don't forget the leaf.
i – down the insect's body, flick and a dot for his head.
r - down the robots back and curl over his arm.
*Read the words on slides below and the short film on tapestry. Write the words hair, fair, chairs.
*Read the Silly Sentences with air focus on Tell a T-Rex Game https://www.ictgames.com/mobilePage/tellATRex/index.html
Lesson 3- air
Todays focus is the trigraph 'air' in chair. Look at the workbook about 'air' can you find the air sound? Can you find the words with 'air' in them?
Together can you and your child read the phoneme spotter story for 'air'. Can your child take on the role of tricky word detective? Mark on the tricky words with a pencil. Then read the story again and be a phoneme spotter for 'air' words – Use a different colour pencil to mark the air words.
Extension: Perhaps you could make a list of these?
Additionally
• Oxford Owls Project X: Alien Adventure, Level 3 – The Starfish: https://www.oxfordowl.co.uk/api/interactives/27243.html
• Oxford Owls Project X: Alien adventures, Yellow Band - The Rocket Flight: https://www.oxfordowl.co.uk/api/interactives/13019.html
Oxford Owls (Free once registered) Read, Write Inc – Up in the air (orange band – A challenge or shared read): https://www.oxfordowl.co.uk/api/interactives/29291.html
I hope you find these useful, please like 👍 this observation on Tapestry so I can see you have seen it and add a comment if you would like me to provide any further feedback. I would love to see the children's work so please add an observation to Tapestry 😊.
You may also find free resources to view and print on twinkl.co.uk to support learning by typing in the search bar the sound then the word phonics eg. er phonics. The workbook, phoneme spotter stories and board games are all good.
Updated 1.7.2020
To start our session, I would like you to practice writing the words: chair f air pair
*Now review the tricky words by listening to the tricky word song:
https://www.youtube.com/watch?v=R087lYrRpgY (Phase 3)
If your child can read and write all the Phase 3 words without any help, then they are ready to learn Phase 4.
Here is the Phase 4 tricky word song. http://www.landscore.tv/watch.php?vid=71955131b
*Challenge yourself - can you write 3 of these the words, without looking, three times?
*Can you write sentences/questions using these words?: eg. My Mum has long hair. I will be at the fair. She sat on a chair.
*Finally you can apply your knowledge by going on the Phonics play website - Sentences Phase 3 to practice reading Tricky word sentences. https://www.phonicsplay.co.uk/member-only/Sentences3.html
🌞 Play bingo – go to http://www.ictgames.com/mobilePage/bingo/index.html pick your words I would practice any sounds your child finds difficult common difficult sounds are – ch sh th ng ai ee. Make a note of your words on post -its or paper then play bingo! Who will win?
Please like this observation on Tapestry as acknowledgement that you have received it. Thank you.