Weekly Activities 15.6.20
Home learning tasks wb.15.6.2020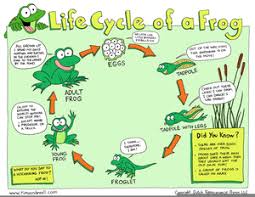 This week we are focusing on Lifecycles, with your child at home you may want to look at lifecycles of different animals – chicks, ducks or butterflies. In school and online we are focusing on the life cycle of a Frog. First talk to your child about lifecycles – what does it mean? Relate it to the changes we see all around us the seasons, flower growth, children's growth.
Activity 1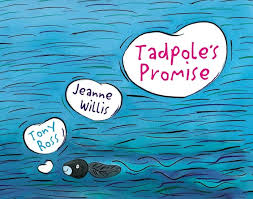 First we will read 'Tadpole's Promise' a story by Jeanie Willis. We will practice the skill of prediction throughout the story, and pause at given points to allow your child to explain their predictions.
Before showing your child the front cover, tell them the title and say 'I wonder what a tadpole is? Share any experiences of tadpoles. Ask 'I wonder what the tadpole will promise?'
Is this a fiction/story or a non-fiction/information book?
Where is the story set?
https://www.youtube.com/watch?v=jAbWXxXwmqE Start film at 0:19 seconds - 3.42 seconds stop THE END.
Focus on new vocabulary; Willow tree, shiny black pearl, lilypad. These may be words that are unfamiliar to your child. Also
Look closely at the expression on the caterpillar's face. I wonder how the caterpillar is feeling… why?
Do you think caterpillar still wants to be tadpole's friend?
I wonder what Tadpole is thinking…
I wonder what will happen next time they meet?
What has changed? How would you describe caterpillar now?
Do you think they will find each other? If they do what will happen next?
Do you think frog knows that caterpillars change? How do you know?
Frog broke his promise 3 times. Do you think he was a bad character? Why or why not?
Activity 2
Your child may have questions about Frogs following the story. Encourage them to record these questions on paper. *Remember to include a question mark (?)
We cannot find all the information we need from stories we need Non-fiction/Information texts – books, online, video clips, pictures. Watch this Frog lifecycle film. https://www.youtube.com/results?search_query=national+geographic+frog+life+cycle
Pause as each new stage is introduced and read the sub-heading and practice saying the new words – frogspawn, tadpole, froglet, frog.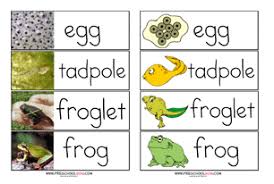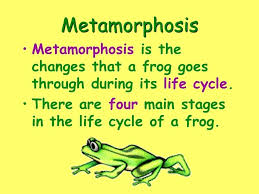 Look at the image of a frog lifecycle, explain to your child that the arrows between each picture show that the stages of growing into a frog are repeated when new eggs are laid by an adult etc.
Activity 3
Can you apply your knowledge of the Frog lifecycle by creating an image or model of the lifecycle in a creative way? You may want to use paper, junk modelling materials, playdough, real food – biscuits or snack – see below for ideas.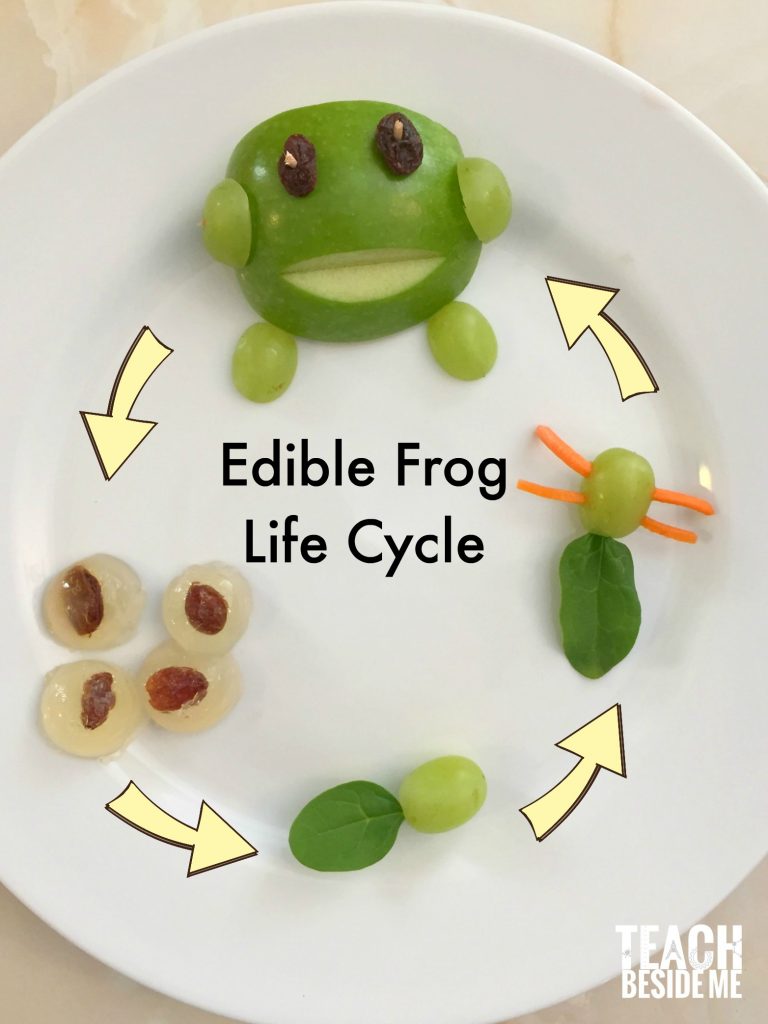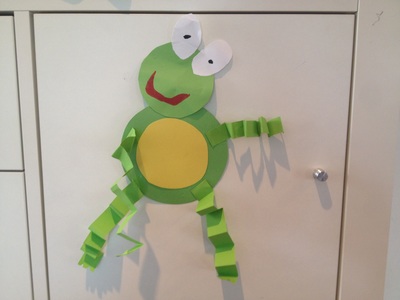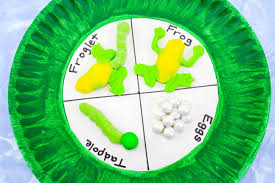 Additional stories and resources about frogs:
Oi Frog https://www.youtube.com/watch?v=ItLi6xx4YEY
Dog on a frog https://www.youtube.com/watch?v=NVtutryTd7w
999 Tadpoles find a new home https://www.youtube.com/watch?v=JdCVhmdGLEo
Oscar and the frog. https://www.youtube.com/watch?v=DXCie36i7Bk
The Frog and the Princess fairy tale https://www.youtube.com/watch?v=5RT7CWrNDAc
Frog crafts https://crafts4toddlers.com/frog-crafts-for-toddlers/
Paper Frog Craft https://www.youtube.com/watch?v=4dRTHn8k48E
5 little speckled frogs with numbers and subtractions shown https://www.youtube.com/watch?v=WSC-gHBU_d0
Home learning challenges (see attached below).
Lifecycle writing (see attached below).