Year 6
1st June:
I hope you had a wonderful half-term break and enjoyed the beautiful weather!
Many of you are retuning to school on Wednesday 3rd June; we look forward to welcoming you back. School will be different, but we will do all we can to make sure we can enjoy being back at Leighton safely. Some of you are staying at home to continue your learning for now; you will have work delivered to you by school staff over the next few weeks. Year 6 will only be open to children whose parents confirmed they were returning on Wednesday; all other children will not be allowed to return until the next phased entry point on the 15th June. Unfortunately, if your child arrives at school on the 3rd June and their attendance has not been confirmed by their parent, you will contacted to collect your child from school. We have had to follow strict guidlines in preparing the school for wider opening.
If you have any questions, please email: year6@leightonprimary.net
18th May:
Hi Year 6! I hope you and your family are all happy and healthy.
It was great to see some of you last week when we dropped of books and I managed to speak to some of you over the phone. Currently, the plan is for Year 6 to return to school on the 1st June if all the Government's 5 health measures are met to ensure it it safe to do so. We will keep you updated over the next two weeks.
Sadly, I can confirm the Year 6 residential is now cancelled. It is such a shame as we were all looking forward to attending the trip. We will work on refunds and will inform you of the process.
Please continue to use your workbooks alongside the online resources that can be found on the tab to the right (Week Beginning 18th May 2020).
Best wishes!
The Year 6 Team
11th May:
Hello Year 6! I hope you all enjoyed the weekend and took time to celebrate VE day last Friday. I'm sure you have seen on the news, that primary schools may allow children in Year 6 to return to school on the 1st June. It is still just a plan; it will depend on how the Covid-19 pandemic develops over the coming weeks. We will keep you all updated as we receive new information.
Please continue to use your workbooks alongside the online resources that can be found on the tab to the right (Week Beginning 11th May 2020).
We had a delay to making phone calls home, but they will start tomorrow :)
Take care and keep smiling!
Year 6 team
1st May Update:
Good afternoon; I hope you are all well and have enjoyed the week and completed some home learning activities. The weather is much better today - thankfully. Did you see the rainbow yesterday? I tried to get a photo of it. I have spoken to some of your parents through email - it's good hear from them. Remember you can email the Year 6 team using year6@leightonprimary.net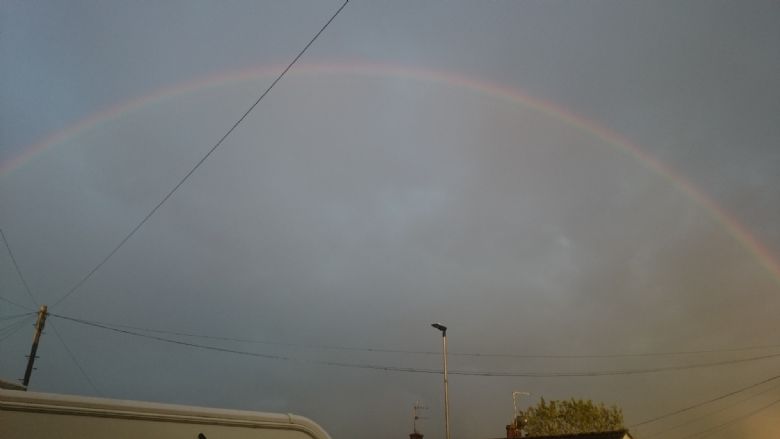 John Lewis Competition!
We're launching a competition to find a superhero teddy bear, and we need your help designing it. The winning teddy will be sold in John Lewis and Waitrose shops later this year, with 100% of the profits going to the NHS. Take a look at the webiste below:
https://www.johnlewis.com/content/your-partners-through-it-all/feel-good-friday
Peterborough Reads 31 Day Challenge, how many can you complete?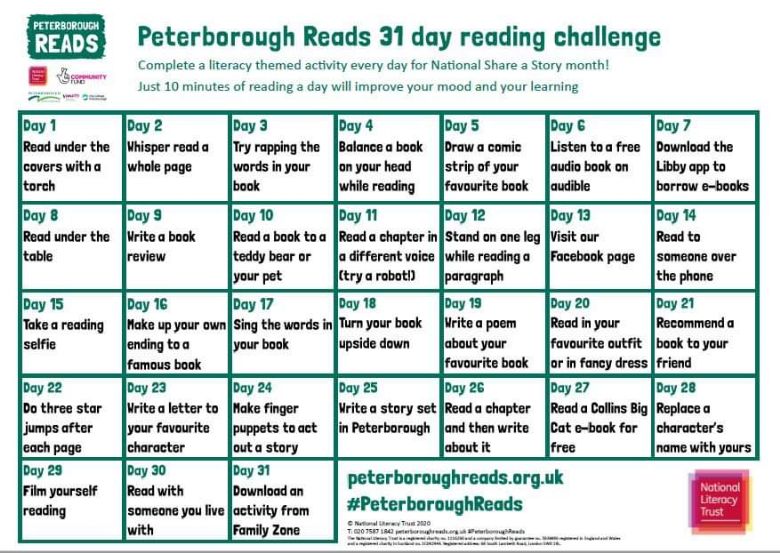 27th April Update: Please see the tab to the right and click Week Beginning 27th April 2020
Please do the best you can at home. We do not expect you to do every piece of work or use each online resource; instead, choose what works best for you at home. Do not put yourself under any extra pressure - you will be learning so many extra life skills at home. Keep your mind active, exercise regularly, laugh lots and smile!
Remember you can get in touch with all the Year 6 team by email: year6@leightonprimary.net
I have created a tab called Home Learning Links. This has a range of online resources to support learning at home.
There is also a tab called Daily Activities. These are things we recommend you try to do as often as possible.
JCA Residential Trip. No further information has been given by JCA. The centres are closed all through May. I would expect the trip to be cancelled. Once this is confirmed, we will start working with JCA to determine how refunds can be paid. Do not make any further payments please.
The National Literacy Trust and Peterborough Reads are running a poetry writing competition for you to enter. Please see: https://literacytrust.org.uk/communities/peterborough/peterborough-reads-writing-competition-week-one-benjamin-zephaniah/ for more details. There be further competitions, so I will try to keep you updated. The National Literacy Trust also have a family zone for learning at home; please visit: https://literacytrust.org.uk/family-zone/
I will be writing an update later in the week to let know about what the Year 6 team have been up to while away from school - there may even be some photos, so keep checking the website!
Take care and keep smiling :)
Mr Corleys and the Year 6 team.
20th April Update:
Hello Year 6! How is everyone? Please, stay safe and enjoy the time at home with your family. As you may have heard, the schools will remain closed for at least another two weeks. Ms. Sutton has already sent a letter home to you all to explain what is happening at Leighton Primary School. The school is open for some children and all the teachers are working throughout the week at home or in school. Please email year6@leightonprimary.net if you any questions or to share your home learning.
I have created a letter just for Year 6s, which can be found below in the attachment section, to let you know about two fantastic home learning resources available from 20th April. The first is through Oak National Academy https://www.thenational.academy/ this is a virtual school with video lessons from teachers for lessons throughout the day with activities and quizzes to complete. The second is from BBC Bitesize https://www.bbc.co.uk/bitesize. They are providing live lessons daily on BBC iPlayer and red button services. They have a weekly timetable which will ensure you are learning across the curriculum. Both are great resources and provide a structure while you are at home. If you don't have Internet access, you can use the workbooks which will be delivered this week. Try to work through the books at your own pace and do a bit each day. I will continue to add tasks over the coming weeks.
Try to keep a daily routine, but don't put yourself under too much pressure to fit a whole school day in at home. I suggest three 30 or 40 minute blocks of learning each day or sometimes it may be you use a whole day to complete a project. Try to do a bit of Maths and English daily - this could be through spellings, reading, times tables, quizzes etc... An example day might be: Monday: English: 30 minutes Reading while finding adjectives. Maths: 30 mins Whiterose lesson or use new workbook or SATs revision book, Science: 30 mins research how fossils are made and create a poster, French: 30 Mins revise the numbers 1-10 and PE: Joe Wicks PE on You Tube. The Oak National Academy timetable follows a similar pattern. The BBC Bitesize plan contains less daily input, but it still covers many aspects of the primary curriculum. Both start tomorrow, so get involved!
I have created a list of links on the tab at the right of the page with timetables for BBC Bitesize and Oak National Academy with White Rose Maths too.
Year 6 Residential JCA UPDATE!!!
All JCA centres are closed until the end of May. They have not made a decision on our June trip yet. If the trip is cancelled, we are working with JCA to decide how to refund your payments made so far.
Enjoy your home learning next week. You may see your Year 6 teachers delivering your school work so give us a wave. If you have any questions or to share work email: year6@leightonprimary.net
Take care,
Mr Corleys :)
April Update:
Hello Year 6! I hope you are all healthy, safe and still smiling :) I'm sure you have all enjoyed eating lots of Easter Eggs and chocolate over the last few days.
We should be due back to school next week; however, we do not know yet if this will be the case. As soon as the Government release the information you will be made aware.
I have no further update about the Year 6 residential trip with JCA; they are currently closed. As soon as I receive any information, I will update you all.
Next week, if we are not back at school, we will be delivering workbooks for you to use at home. We will update the website weekly with learning ideas for you to complete at home. If you have any questions or just to talk to us email: year6@leightonprimary.net
Here are some further ideas to the ones already uploaded to keep your mind active. Remember to keep exercising inside your house or garden:
Arts and Crafts: Junk Modelling - use some of the materials you would normally put in the recycling or bin to create something new - this website has lots of ideas https://www.activityvillage.co.uk/recycling-crafts
It's a great time to do some baking / cooking with your family. Have a go at writing a full recipe including ingredients, method and a review of how it tasted. Share it with the rest of the year group by emailing you recipe to year6@leightonprimary.net and I will upload it to the website.
If you enjoying using Lego, I have attached a 30 day Lego building challenge for you to attempt.
For those of you, who like to learn new dances, YouTube have a Just Dance channel for you to use: https://www.youtube.com/channel/UC0Vlhde7N5uGDIFXXWWEbFQ
Football Fans: I have attached a kit design worksheet. You could use this as a template for your own football kit design for your favourtie or the team you play for. Use this link to find other great resources from the Premier League https://plprimarystars.com/home-learning Maybe you could create your own set of training sessions and share with the rest of the year group.
Computer coding: https://scratch.mit.edu/ or https://microbit.org/ both are fantastic websites to encourage the use of coding and programming.
English Spelling and Grammar Games: https://www.topmarks.co.uk/english-games/7-11-years/spelling-and-grammar
Learn how to draw: http://www.robbiddulph.com/draw-with-rob
I'm sure many of you may have already created a poster to display in your windows at home, but if not, why not create a colourful poster to display in the window to say thanks or to remind everyone to keep smiling. I've seen lots around where I live and it makes my family smile when we see them.
I've attached a couple of quizzes that you could complete with you family (answers are also attached).
Remember to keep reading lots at home - there are many online provider of ebooks or provide a service to read books online. https://home.oxfordowl.co.uk/books/free-ebooks/ is a good place to start.
Take care and enjoy being at home with your family; hopefully we will all see you again soon.
Mr Corleys :)
End of March Update:
Hello Year 6!
I hope you are all keeping well and safe while you are away from school. Fingers crossed you have not spent every waking minute watching Tik-Tok memes; I'm sure you have all learnt 100s of new dance moves to show us when we are back Leighton - I can't wait! :)
These are strange times for us all and I know it is not easy. Hopefully, we will see you all again soon. We are all missing seeing you in school each day - even when you are talking non-stop about online gaming! We will be working over Easter on ways we can continue your learning at home and to how communicate with you all more often. After Easter, we will provide weekly and daily learning challenges. We appreciate not everyone will be able to complete all tasks and activities; just do the best you can.
Remember to try to keep up with your learning the best you can. We are really keen to hear and see what you have been learning about at home. Please use the email address: year6@leightonprimary.net It would be great to see some photos of the learning you have been doing at home. We will reply to your emails.
Like I've said previously, there are lots of wonderful websites that are updating daily with lots of way to learn each day.
David Walliams reads his stories online: https://www.worldofdavidwalliams.com
Strictly's Oti dance class: https://www.youtube.com/channel/UC58aowNEXHHnflR_5YTtP4g
Myleene Klass music session: https://www.youtube.com/channel/UCQh2wgJ5tOrixYBn6jFXsXQ
Creative activities: https://www.thecreationstation.co.uk/
Maths: https://whiterosemaths.com/homelearning/year-6/
English: https://www.hamilton-trust.org.uk/blog/learning-home-packs/
Take care, have fun and please get in contact to share learning or ask questions year6@leightonprimary.net
Best wishes and Stay Safe!
Mr Corleys and the Year 6 Staff.
Some ideas to support home learning:
1: Reading. The most important thing is for your child to continue reading books at their level, and books that they enjoy. If you run out of books and are not able to get to a library, then you can register for free on the link below for access to online books. https://www.oxfordowl.co.uk/ You can then choose books at your child's book band level. I will allow children to borrow more than one book to take home. Please ensure children are reading across a range of text types and genres.
2: Writing. Your child could write a diary each day about their day. They could write an information text about something they are interested in (after finding out some information on websites) and organise their writing into sub-headings. It's a great time for children to be creative and apply all the writing skills they learnt in school. They could invent their own story, discussing their ideas and telling the story first and then writing it down. Or they could retell the story of a film or TV programme that they have watched. Creating poetry is a fantastic way for children to express their emotions and feelings. http://www.pobble365.com/ (Comprehension and inspiration for writing activities) The literacy shed is full of innovative ways to get children writing https://www.literacyshed.com/home.html
3: Maths. The children now have their own revision books at home, which they can use daily to work through the areas of maths expected for Year 6. Use, https://www.mathsisfun.com for a wide range of maths topics and questions.
Carol Vorderman Maths is now free for use at home sign up at the following website: https://www.themathsfactor.com/
Free Sign up : https://komodomath.com/
4: Wider Curriculum. The children can research their next science topic - Evolution and Inheritance. Children could find about Charles Darwin and the theory of Evolution. They could find out why we inherit certain characteristics from our parents and why we do not all look identical. How are all living organisms linked through evolution, adaptation and mutation? Why do certain animals survive better in different environments? Why do giraffes have such long necks? History: Our next topic is the ancient civilization of Maya. Take time to research and investigate this time in history. You could create some artwork linked to the topic or create a model of Mayan Temple. https://www.ducksters.com/history/maya/pyramids_and_architecture.php In Geography, we will be looking at how maps are used for different purposes and how maps are created. Children could create maps of their local area or a map to journey their travels to and from a given a point. https://www.rgs.org/schools/teaching-resources/map-skills/ In art, we looking the work of Antony Gormley http://www.antonygormley.com/ children could create their own sculptures. Children can use all their art skills to create a gallery of work.
PE: Joe Wicks in streaming a daily 30 minute YouTube routine for children to take part in. Just search on YouTube
The Premier League have uploaded a range of different activities to keep you busy while schools are closed:
https://plprimarystars.com/news/home-learning-activities-school-closures
Computer Programming: https://scratch.mit.edu/explore/projects/games/ (creative computer programming)
Useful Websites:
Twinkl free access for 1 month:
Setting this up is really easy to do - go to www.twinkl.co.uk/offer and enter the code UKTWINKLHELPS
You can access and print off lots of teaching resources from this website.
Poetry writing ideas:
https://clpe.org.uk/poetryline
Year 6 Maths:
https://uk.ixl.com/math/year-6
A website full of videos and pages to support learning across a range of subjects:
https://www.bbc.co.uk/bitesize use the primary link.